Alexander Hamilton (January 11, 1755 or 1757 – July 12, 1804) was an American statesman and one of the Founding Fathers of the United States.
Alexander Hamilton is considered to be one of the most pivotal figures in American history and also a key figure during the first years of American Independence.
In Jacksfilms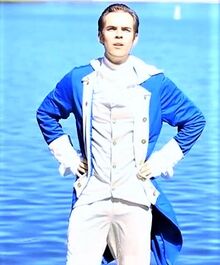 "Hamilton" is the name of a Broadway Musical, directed and written by Lin-Manuel Miranda. The musical was released in 2016 and was a long series of songs that were centered around the American War of Independence.
On the Jacksfilms channel, in October of 2016, Jack claimed he wanted to come up with "just the worst costume possible" for Halloween and ultimately decided to dress-up, as he describes it, "a guy dressed up as Alexander Hamilton who hasn't seen the show Hamilton but thinks he knows of the songs but totally doesn't but just goes with".
Jack released two music videos, both of which were parodies on the first song of the Hamilton musical, named "Alexander Hamilton". During these songs, Jack changes the surname Hamilton to an object, situation or character.
Since it became popular in October, Alexander Hamilton has been a recurring meme on the Jacksfilms channel. The meme has gained its own merchandise, including T-shirts, accessories and other wearable clothing.
Following the original Hamilton parody, on December 23rd, Jack asked his fans to come up with more verses for the sequel to Alexander Hamilton.
On February 14th, 2017, Jack hosted YIAY with his girlfriend Erin in a Valentine's Day special. In the video, a question asked if either Erin or Jack can rap "Alexander Hamilton" flawlessly. In the video, Erin started to rap the song only for it to be cut to the next question. A day later, on February 15th, Jack released a video on his second channel, Jackisanerd, which was a video in which Erin rapped the entire song, with Jack either interrupting her at times or singing along. In the same video, Erin also rapped "The Schuyler Sisters", another rap from the musical.
Jack constantly refers to Alexander Hamilton as No. 1 President of the United States. Historically, Alexander Hamilton was never President of the United States of America, but rather Secretary of the Treasury. Historically, Alexander Hamilton was actually the First Secretary of the Treasury.
Jacksfilms announced in the 395th Episode of YIAY that Alexander Hamilton 3 was coming out on Feburary 22nd 2018 and that he would be collecting comments for the lyrics.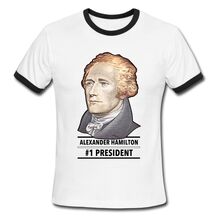 Videos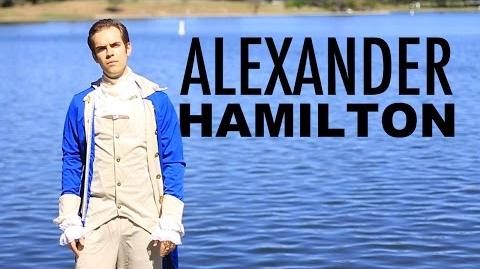 Community content is available under
CC-BY-SA
unless otherwise noted.