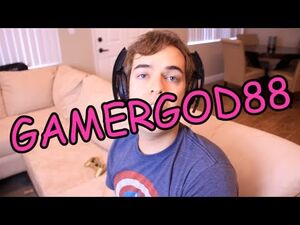 GamerGod88 is the character Jack uses in his fake Let's Play videos. He would appear on the Jacksfilms channel twice everyday (total: 14 times) as of April 21st, 2014, but in JACKASK #15, Jack stated that he will stop uploading the videos daily, and would upload a bunch of videos of him every two Mondays as a big PMS. However, since then, GamerGod88 has became very rare on Jack's channel, and fans have started thinking he will no longer return to his channel. Jack revealed that he will start having GamerGod88 appear on Twitch, but will find time to upload him on YouTube as well.
Personality
GamerGod88 is shown off as an exaggeration of the typical YouTuber Let's Player, shown as being quite immature, rude to others while gaming and very annoying at times. He also seems to be quite easily offended and hates when people call him while he's playing the game. He loves to distract his viewers, seen in the South Park Let's Play where he constantly ate and drank, for which his fans couldn't hear bit of what was said. In a video, his mother called him Gregory, but in the Flappy Bird Parody, Jack portrayed GamerGod88 as himself, since his girlfriend, dog and parents called him Jack. On Twitch, he announced that his real name is Brendan.
Links
Twitch [1]
Community content is available under
CC-BY-SA
unless otherwise noted.